Have A Flash-Y New Year with Flash 2
Kuala Lumpur (22 January 2016) — The Flash 2 mobile phone that was launched in October 2015, closed the year on a high note topping Lazada's December 12 sales chart as the most popular smartphone in Southeast Asia.
The Flash 2 has also been named the Champion in the USD100 to USD150 price range, placing it firmly in a sweet spot for consumers who want the best quality, features and functions coupled with affordability.
This best-in-class mobile photography powerhouse boasts a 13.0 megapixel rear camera with RealTone Dual Flash that provides better illumination in low light conditions, while maintaining natural colors. The front 5.0 megapixel camera has an LED flash for selfies and wefies that are so professional they are now called profies!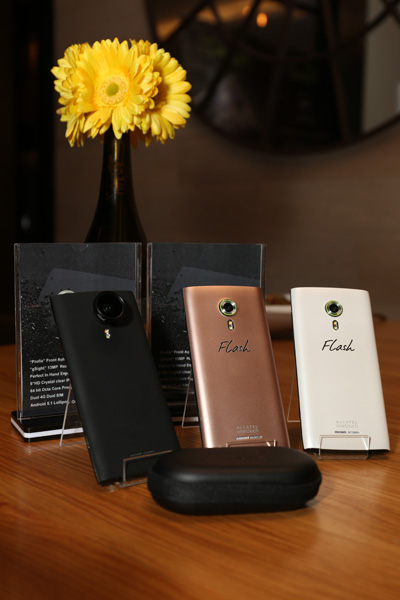 Powered by a 64-bit Octacore 1.3GHz MediaTek MT6753 processor, the Flash 2 runs on Android 5.1 Lollipop OS and has 2GB of RAM, 16GB ROM that is expandable to 128GB through external storage. The device has a 5.0 IPS high-definition LCD screen with a resolution of 1280×720 pixels. For better connectivity, Flash 2 has Wi-Fi, Bluetooth 4.0 and GPS. This Android smartphone has dual SIM and dual LTE features and is energized by a 3,000 mAh Li-Ion battery.
The Flash team held a media briefing to share the roadmap for what is in store for this fan favorite mobile phone that has the camera, features, looks and perfect-in-hand feel that is making it increasingly popular.
Flash E-commerce Operations Director, Mr. Yogi Babria enthused on four new developments that Flash 2 users can anticipate in the coming months including new battery cover colours, camera lens cap for macro and fish eye photography, Android Marshmallow 6.0 update and increasing availability of the model, including offline.
"The Flash 2 has hit the sweet spot with mobile phone users and prospective buyers because it combines best in class features with killer looks and affordability. We have studied what Flash 2 users desire, and will be giving them what they want, and more besides," said Mr. Babria.
The Flash 2 is sold primarily online in the Volcanic Grey finish. To give users more looks with just one phone, battery covers in Rose Gold and Mica White will be made available as offline exclusives.
"This is our way of giving consumers more options when it comes to the look of the Flash 2, while helping us expand our reach to the untapped offline market. Both the Rose Gold and Mica White are colors of the moment, and are very much in demand," Mr. Babria explained.
As the Flash 2 is sought after for its best-in-class camera, camera accessories were always in the pipeline. A new lens cap for the Flash 2 will allow both macro and fish eye options, feeding into the social media habits of the model's core users who fall into the 18 to 24 year old demographic of young, college goers.
"Social media presence and activity defines a significant number of Flash 2 users, and a lens cap that gives them more options to explore macro as well as fish-eye photography means they will have more cachet among their digital peers. We've got their back when it comes to looking good and capturing the moment be it big or small," Mr. Babria quipped.
The Flash 2 will be updating to Android Marshmallow 6.0 come March, to keep its users current in terms of operating systems.
"We're very pleased with the performance of the Flash 2 and are ensuring that users can enjoy a longer product cycle with this model through the updates, accessories and more variety," he added.
As Flash 2 sales have surged in Malaysia, Flash has appointed Mr. Gary Boon as Country Manager for Flash to oversee and grow this expanding market.
"Last month, during the Lazada three-day online shopping spree, sales of Flash 2 in Malaysia rose 600%, proving that Flash 2 has amazing potential and great demand. I've been tasked with the responsibility to take Flash to the next level in a market that is crowded, mature and increasingly sophisticated but I'm confident that Flash can deliver," Mr. Boon said.
For more information about Flash, please visit the official website. Photo Journalist
Gadgets, Photography, Automobile, Lifestyle