Flexible Acer Aspire R 14 powered by new Intel Skylake Processor
Kuala Lumpur (27 January 2016) — Acer Malaysia introduces the flexible and sturdy Aspire R 14 powered by the latest Intel processor for better office, home and entertainment usage.
The Acer Aspire R 14 can be transformed into four different modes for a variety of needs, making it easier to use and perform at work or play. Its flexible and sturdy dual-torque hinge allows easy transition into four modes – notebook, display, tent and pad.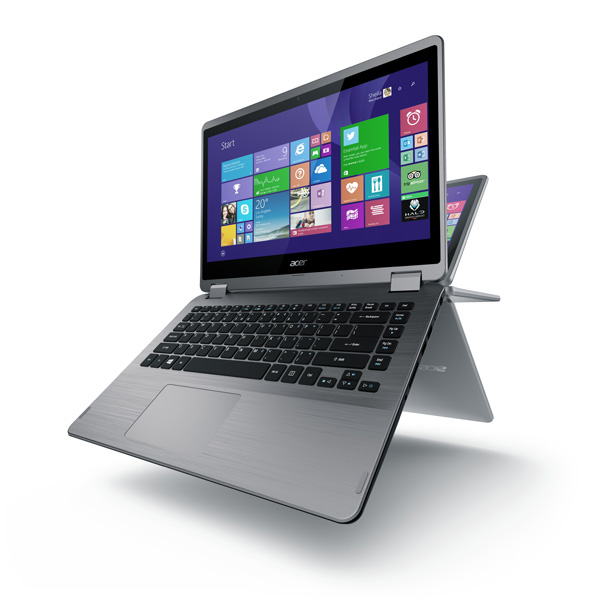 The attractive and sleek design of the Aspire R 14 courtesy of the industry-leading technology – soft touch NIL (Nanoimprint Lithography) offers a unique look and soft tactile feel. The hairline-brush metallic cover and inner design provide a unified image of elegance and timeless making the Aspire R 14 visually compelling.
The Aspire R 14 is compatible with the latest wireless networks that use MU-MIMO technology to serve more devices simultaneously allowing up to 2-times faster download, smoother streaming and better browsing experience. It is also equipped with full USB 3.1 Type-C support that allows lightning-fast transfer of power, data and high-res display with only one port.
The 14-inch IPS Full HD display provides a wide viewing angle allowing smooth sharing of content even with four different modes:
Notebook – provide the most efficient way for work and maximises productivity.
Display – great viewing angle for sharing of content during presentations or conference calls
Pad – optimized to play, share and browse information
Tent – the perfect mode when using it in a confined space.

The Aspire R 14 includes Acer TrueHarmony Plus feature that delivers lifelike audio that takes entertainment to the next level with wider bass range, powerful sound and limits audio distortion. Also found in the Aspire R 14 is the Acer Bluelightshield which protects the eyes by reducing blue light emission from the screen.
The Acer Aspire R 14 is priced at RM2,899 and will be available for purchase immediately at all Authorized Acer Resellers nationwide. For more information, please visit Acer Malaysia Facebook or call Acer Product Infoline at 1800-88-1288 (9am – 6pm, Mondays to Fridays). Photo Journalist
Gadgets, Photography, Automobile, Lifestyle