Shah Alam (26 January 2016) — Digi Telecommunications Sdn Bhd (Digi) and iflix, Southeast Asia's leading Internet TV service, have teamed up again to offer Digi subscribers unlimited access to tens of thousands of hours of entertainment. This latest offer represents a significant deepening of the relationship between the companies.
From 26 January onwards, all Digi customers who sign up or upgrade to a Digi SmartPlan 65 or above will receive a 12-month iflix subscription, valued at RM96, bundled with their new postpaid plan at no additional charge, compliments of Digi.
Last October, Digi and iflix announced a partnership which allowed Digi customers to pay for their iflix subscriptions through their Digi prepaid or postpaid accounts thus eliminating the need to use a credit or debit card. Along with this, Digi customers could also register for an iflix account and get 60-days full access to iflix, valued at RM20, at no additional charge.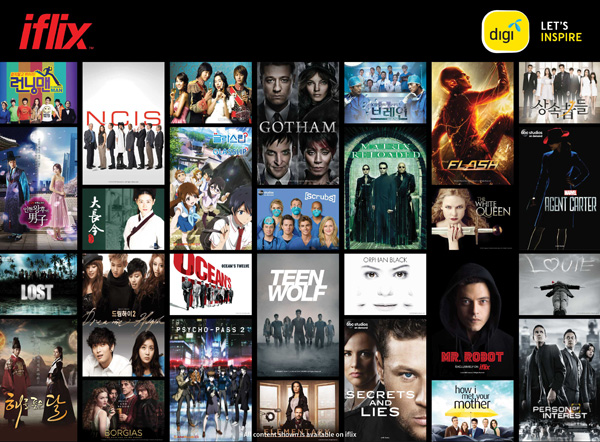 Now, to make it easier for customers, improved back-end integration between Digi and iflix lets Digi customers connect to iflix without needing to register for an account. All they have to do is install the app, which is available on Android and iOS, and launch it. iflix automatically recognises customers connecting through Digi's network and grants access wherever, whenever.
"Digi is the first mobile telco operator to offer 12 months access to iflix in Malaysia at no additional costs. We are always looking for new ways to bring added value to customers and strategic partnership like ours with iflix is one example how we innovate to bring the best digital services to the market," said Christian Thrane, Digi's Chief Marketing Officer.
"We have now simplified further how customers can enjoy the content that inspires them. With Digi's widest 4G LTE network, we have the best platform for them to take advantage of this offer," Thrane added.
Azran Osman-Rani, iflix Group COO and CEO of iflix Malaysia commented: "We are thrilled to strengthen our partnership with Digi, Malaysia's leading telecommunications provider. With our new seamless sign-up process and Digi's extensive 4G LTE coverage, Digi subscribers can now enjoy uninterrupted and unlimited access to thousands of their favourite TV shows and movies, all available on iflix. This latest deepening of our partnership with Digi, demonstrates once again our commitment to bring the best in entertainment content to Malaysian audiences across the country."
iflix's vast library includes over 18,000 movies and TV episodes, including a huge selection of Malaysia's favourite comedies, dramas, action adventures, movies, anime and family entertainment. iflix offers members award winning and hit TV shows, such as Mr Robot, Fargo, Aquarius and Black Sails, exclusively to members in Malaysia, along with over 3,000 hours of popular Korean dramas and variety shows, and much more.
For more information, visit www.digi.com.my.