Continental Tyre Malaysia launches the Chinese New Year Road Safety Campaign 2016
Petaling Jaya (15 January 2016) — Continental Tyre PJ Malaysia Sdn Bhd (CTM) launched its Chinese New Year Road Safety Campaign 2016. Jointly organized by CTM and Shell Malaysia Trading Sdn Bhd, scheduled from 9th January to 31st January 2016, the road safety campaign is aimed at educating the general motorist to cultivate tyre safety habits and prioritize vehicle maintenance to ensure a safe trip heading back to their hometowns to celebrate Chinese New Year.
Officiating the launch of this event at Shell Station Bandar Utama was Mr. Cameron Wilson, Managing Director of CTM, Mr. Yee Kang Lim, Territory Manager Retail Malaysia, Shell Malaysia Trading Sdn Bhd and YBhg. Tuan Abdul Ghafar bin Yusof, Director General, Road Safety Department (JKJR).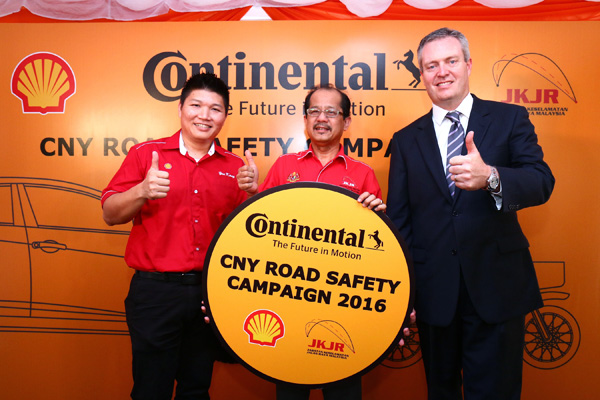 During the launch, the importance of performing tyre maintenance regularly and ensuring vehicles are in good condition were emphasized. These steps significantly help to reduce the risk of accidents and ensure general motorists' safety which are the key messages that CTM hopes to spread to the entire nation.
"Tyres are the sole point of contact between the vehicle and the road. In a critical situation, it is the tyre that determines whether the vehicle can stop in time, or whether it stays safely on course through a corner. This is why car drivers should be aware of the safety benefits of using high-tech tyres such as Continental's, inflated to the correct pressure and with adequate tread depth. Studies from different tyre manufacturers prove over and over again that more than 50 percent of all passenger cars permanently are driven with underinflated tyres. Tests with underinflated tyres show increased risk of adverse safety consequences in emergency situations. Clearly, correct tyre inflation pressure and sufficient tread depth mean fewer accidents and this can mean the difference between life and death. And this is the key message that we hope to spread to the entire nation." Said by Mr. Cameron Wilson, Managing Director of CTM.
This campaign, being a corporate social responsibility initiative in its second time running, is certainly a means in complementing the efforts of Jabatan Keselamatan Jalan Raya (JKJR) to promote road safety awareness and education. To create this awareness, CTM will conduct tyre safety and car engine oil checks at 15 Shell petrol stations nationwide, started from Shell petrol stations in KL, 9th January to 10th January, this year.
Participants of Chinese New Year Road Safety Campaign will receive a booklet from CTM featuring tyre maintenance tips, Continental premiums and a RM30 voucher for Continental tyre purchase. Shell Malaysia Trading Sdn Bhd will also be giving out a promotion voucher during the campaign. With purchase of any Shell Helix or Shell Advance product (Helix Ultra, HX7, HX5, Advance Ultra, AX7 and AX5), one free petrol cash voucher will be entitled. In addition, 100 new SIRIM approved helmets will be given away for free to replace uncertified helmets at each location, courtesy of JKJR.
CTM will conduct the Chinese New Year Road Safety Campaign at the following Shell petrol stations starting from 10am to 8pm: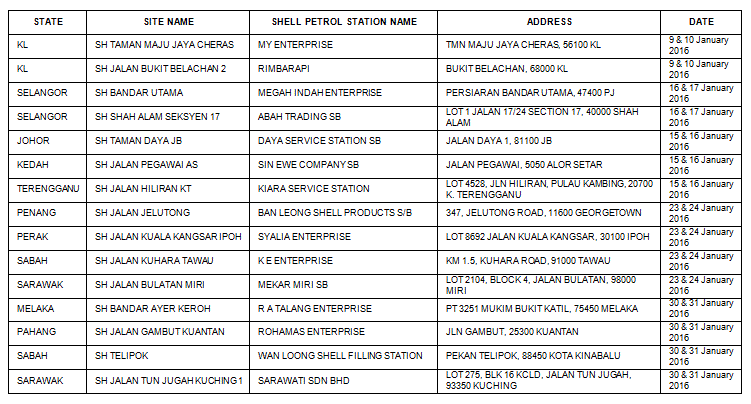 Photo Journalist
Gadgets, Photography, Automobile, Lifestyle