Setia Alam gets the first people's tower and Digi 4G LTE
Shah Alam (19 December 2015) — Digi Telecommunications Sdn Bhd ("Digi") today powered-up the first people's network tower in Setia Alam as voted by Malaysians in its fun, innovative #DigiWeWant4G twitter campaign.
In mid-November, Digi said to customers 'You Tweet, We Build' and put customers in the driver's seat to help rollout its network by nominating their towns to be the next in line to get 4G LTE with its #DigiWeWant4G twitter campaign. The campaign let customers highlight locations they wish to enjoy high-speed internet coverage by tweeting the hashtag #DigiWeWant4G and the location name. Digi then promised to expand its 4G LTE network to the top 10 most voted areas, in addition to its original network rollout plan. The campaign concluded on 15 December 2015.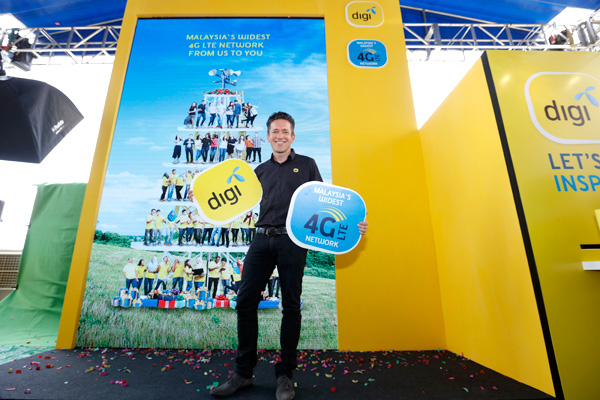 Digi's Chief Marketing Officer, Christian Thrane said, "We knew network coverage was important to Malaysians, but seeing the genuine response to this campaign and customers nominating their areas got us very excited. It gave us another avenue to listen closely to our customers on where they would like to enjoy consistent high-speed internet, which was valuable input into our work to build 4G LTE access for more people, and strengthen our coverage position."
Even though the campaign had recently ended, Digi's engineers were determined to complete one of the Top 10 most voted areas as a great way to close-off the year for its customers. "We wanted to give our customers a special year-end surprise and what better way than to gift 4G LTE – that's why we're powering-up 4G LTE in Setia Alam today. We're calling this the first people's tower and that's what it truly is – the people's choice. The enthusiastic local community of Setia Alam campaigned hard to put their area on the rollout map, we heard them and we're delivering 4G LTE right to their doorstep."
"We are excited that Malaysians see the value of good 4G LTE coverage, and look forward to see Digi customers enjoy a consistent high-speed internet experience on-the-go with for all they want to do: high-quality video and music streaming, faster sharing on social media and internet browsing, and more. We will bring 4G LTE to all Top 10 areas in 2016."
In no particular order, the Top 10 most voted areas are:
     Setia Alam, Selangor
     Jejawi, Perlis
     Lunas, Kedah
     Arau, Perlis
     Batu Gajah, Perak
     Limbang, Sarawak
     Papar, Sabah
     Tenom, Sabah
     Bau, Sarawak
     Simpang Renggam, Johor
On plans moving forward, Christian said that Digi will continue to steadily fast-track its network rollout to enable more Malaysians to enjoy consistent high-speed internet services on-the-go. "We are closing the year in a solid network position, but we know there is more work to do. We believe that every Malaysian should have the opportunity to benefit from being connected. We will continue investing heavily in building a high-quality network that is wide, and as importantly, focus on network density to ensure customers get equally seamless high-quality 4G LTE service – consistency, capacity and indoor coverage – anywhere within our coverage areas."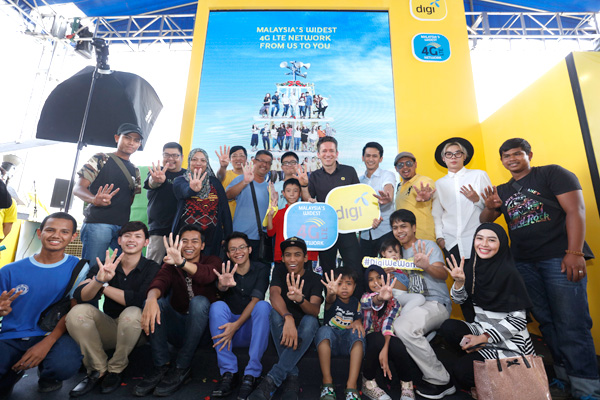 Malaysia's widest 4G LTE network now connects even more Malaysians to its high-speed internet services with 60% population coverage. The company's network brings 4G LTE access to 80 major cities and towns, with key market centres averaging 95% population coverage. Digi has also switched on its 4G LTE-Advanced (4G LTE-A) network nationwide with a 22% coverage footprint, reaching an average 50% population coverage in key market centres.
In addition to delivering 4G LTE and 4G LTE-A services on its stable, reliable network, Digi is already working to bring Voice-over-LTE (VoLTE) and Voice-over-WiFi (VoWiFi) services, and compatible 4G LTE smartphones to customers in 2016. VoLTE will improve call experiences for customers with higher quality audio, faster call connections and simultaneous use of data, while VoWiFi will help customers enjoy improved indoor coverage.
For more information on #DigiWeWant4G, or to begin enjoying the full benefits of 4G LTE on Malaysia's widest 4G LTE network, visit digi.my/4GLTE. Photo Journalist
Gadgets, Photography, Automobile, Lifestyle