Digi partners with Malindo Air and AeroMobile to offer in-flight mobile internet
Shah Alam (18 December 2015) — Digi Telecommunications Sdn Bhd (Digi) today announced a partnership with Malindo Air that will give passengers the convenience of surfing the Internet during selected flights. With the assistance of AeroMobile Communications Limited, Digi postpaid users can now easily get in touch with their loved ones en-route to their destinations.
"Digi is committed in constantly improving our services. This service, coupled with our widest 4G LTE network, connects Malaysians with high-speed internet services even when travelling. Through this partnership with Malindo Air, our customers would be able to use their mobile devices onboard, empowering them to change the way they work, learn, play and live and provide them seamless connectivity," said Chan May Ling, Digi's Head of Marketing Services.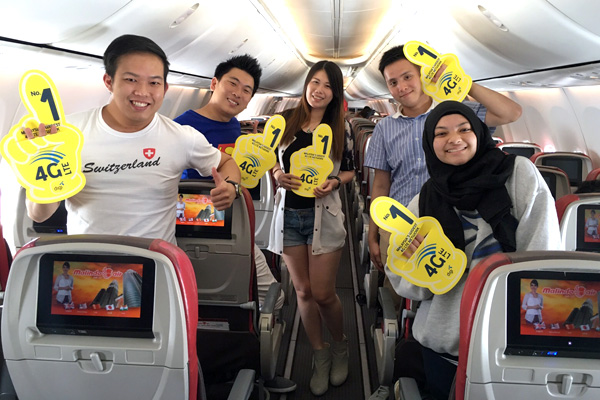 The service, available on selected Malindo Air Boeing 737-900ER aircrafts via the AeroMobile mobile service, mainly flies to Mumbai, Delhi, Amritsar, Kochin, Trichy, Trivandrum, Kathmandu, Perth, Kota Kinabalu, Kuching, Bali and Bangkok.
Chief Executive Officer (CEO) of Malindo Air, Chandran Rama Muthy, said "We are excited to unveil this partnership with Digi as part of our continued enhancements on overall customer experience.  We look forward to bringing more functionality to our digital platforms through engaging and intuitive functions in order to make our guests' journey a remarkable overall experience from the moment they book their flight".
Malindo Air is one of the latest airlines to provide AeroMobile's mobile services following the success of implementing the service for Alitalia, Etihad Airways, Lufthansa, and Singapore Airlines.
"Many holidaymakers today feel the need to stay connected and constantly update their social media accounts such as Facebook, Twitter and Instagram while on the go. Business travelers also often times require access to their emails while they are at cruising altitude. We are happy to be in partnership with Malindo Air and AeroMobile to cater to these customers' needs," Chan said.
This partnership is in line with Digi's ambition to provide wider 4G LTE network coverage to connect even more Malaysians to its high-speed internet services which is already capable of serving 60% of the country's population to date.
To experience this new service, Digi postpaid customers can now access the internet in-flight at a promotional daily flat rate of RM32. For more information, visit digi.my/roaminternet.
aeromobileDiGiin flightmalindo airmobilenetworktelecommunication