Redcliff Arena Hits the Google Play Store
Kuala Lumpur (27 November 2015) — Gamespark Technology Sdn Bhd, a game publisher, today announced the launching of Redcliff Arena, the latest action card role-playing game is now available in Asia especially new in Malaysia, Indonesia and Singapore. This free-to-play game can be downloaded via Google Play Store. It is available in three languages: English, Chinese and Bahasa Malay. Redcliff Arena uses the background of Three Kingdom which are Shu, Wu and Wei countries with many famous historical Heroes such as Liu Bei, Sun Quan and Cao Cao.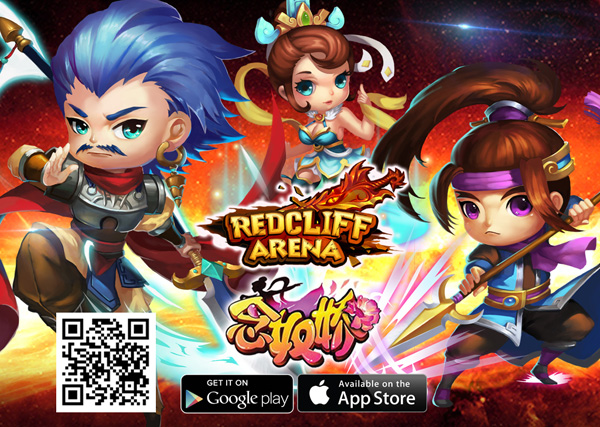 "Redcliff Arena is the most innovative, adorable and creative action card game that integrates humorous Three Kingdom stories in the powerful battles, which will create an ultimate gaming experience to all players". Players can mix and match different heroes to create a strong battle team to challenge friends in PvP, survival mode, and nationwide co-op multiplayer combat mode.  It has magnificent 3D graphic effect yet simple to control. Moreover, players can recruit over 60 collectible heroes and get over 100,000 combination of battle team. Each hero has powerful attacks and abilities to lead the pace of battles and conquer the legendary war of Three Kingdom to become the almighty Emperor!
"Redcliff Arena is now available for FREE on Google Play Store for Android users while the iOS version is coming soon. This game is incredibly fun and it creates a new gaming experience by integrating comic, cute character design and 3D graphic effect.  We want it to become the trendiest and the most popular mobile game", explained by Mr. Gary Wong, CEO of Gamespark Technology Sdn Bhd.
In conjunction with Facebook Grand Launching event, players stand a chance to win iPhone 6s, Samsung Tablet and many other interesting prizes. In order to win this, just like and share Redcliff Arena Official Facebook in between 27 November 2015 to 26 December 2015 and fulfill in-game activity requirements. Currently, it is open to all players in Malaysia, Singapore and Indonesia. Visit https://www.facebook.com/SEA.RedcliffArena for more information.
Based on research, the fast growth of mobile apps download in Malaysia is driven by a rapid increase in new broadband users and first-time smart-device users; social media played an important role in the significant increase of game downloads in the region. As a result, Malaysia ranked as the second highest in Southeast Asia gaming market with mobile games generating revenue approximately $97 million in 2014 and expected to be $242 million in 2017.
'Malaysia mobile game market will grow tremendously in the coming years; this emerging market offers a good timing to launch mobile game throughout Asia. I believe Redcliff Arena will have a great market potential in Malaysia,' added by Gary Wong as closing of the interview.
Redcliff Arena download link via Google Play Store: https://goo.gl/A9vNxc