Lenovo Caps off 2015 with its Year's Biggest Launch
Kuala Lumpur (24 November 2015) — Lenovo today unveiled eighteen new transformative devices and accessories for every consumer's computing, gaming and entertainment needs.
This is part of MyLENOVOtainment, which enables Lenovo to strategically encompass MyLENOVOMusic, MyLENOVOMovie and MyLENOVOGaming, as the technology leader continues to remain as the only company with the digital heritage and global reach to enhance user experiences while simplifying the complexity of digital entertainment. This is to facilitate every part of the value chain to deliver the products, content, services and industry partnerships to help consumers connect at every stage of their lifestyle.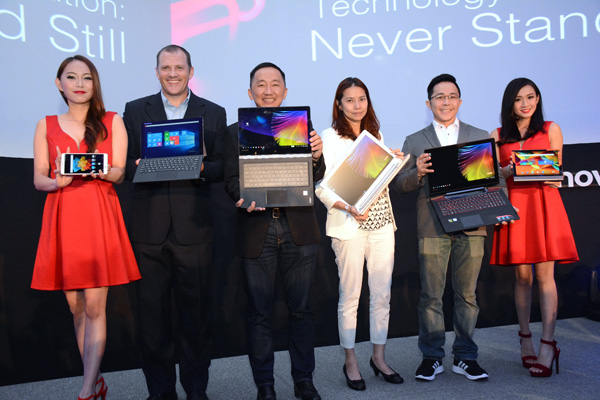 Centered on Lenovo's belief that life rewards those who 'Never Stand Still', Lenovo continues to elevate user experience and address all of their mobility needs through the use of unexpected technology. With the launch of these new products in Malaysia, Lenovo aims to appeal to the users of all interests – tech enthusiast, business mavens, gamers, and every day on-the-go multitaskers.
"Lenovo has seen a consistent demand not just for laptops and smartphones but also for tablets, multimodes and PCs. Because our customers are diverse, so our products are not 'one size fits all' either. The MyLENOVOtainment approach allows us to continue enhancing the lives of everyone. We are also known around the world for innovation, style and personal expression and have stayed true to this with our new range of products," said Khoo Hung Chuan, Country General Manager, Lenovo Malaysia.
Users will be treated to an array of new products such as the Y Series for gaming, YOGA Series, ideacentres and ideapads, and the Lenovo PHAB Series along with gaming accessories and the Lenovo Pocket Projector.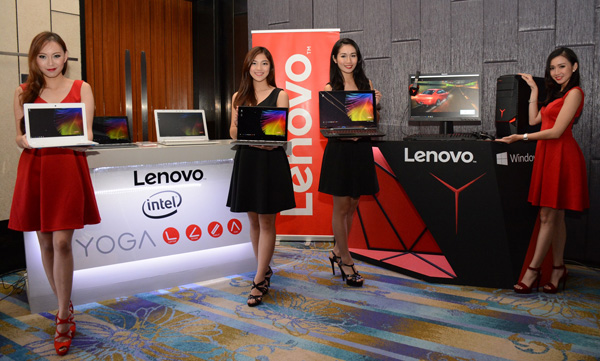 YOGA 900 – As the world's thinnest Intel Core i convertible laptop with up to Intel's latest 6th generation Core i7 processor, the new Lenovo YOGA 900 is beautifully slim and feather light, yet amazingly powerful. The YOGA 900 provides flexibility with four usage modes (Laptop, Stand, Tent, Tablet), letting users work, watch or play in a variety of scenarios. Lenovo crafted the laptop with its recognizably different watchband hinge made of more than 800 intricately woven, individual pieces. The improved watchband hinge provides a noticeably smoother rotation – allowing users to flip and fold their YOGA 900 easily into different modes. The convertible laptop also takes full use of Windows 10 Continuum, allowing users to seamlessly move between laptop and tablet modes on their YOGA 900. It has 50 percent greater battery density (compared to the previous generation), allowing it to achieve up to nine hours of local video playback. From working through a long-haul flight in laptop mode to enjoying a movie marathon in stand mode to reading while commuting in tablet mode, the super-light YOGA 900 can flex into nearly any position to fit into users' lives.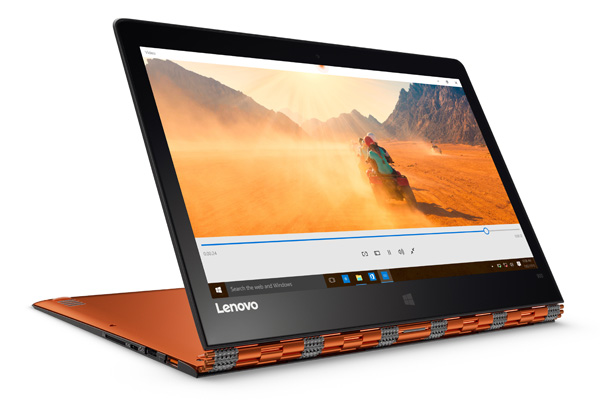 YOGA TAB 3 8" – The YOGA TAB 3 8" is the best go-anywhere video tablet with a long battery life and LTE support to let users stay connected anywhere, anytime. Both models are primed for video and multimedia applications and unparalleled portability, equipped with an HD (1,280 x 800) display, front-facing stereo speakers with Dolby Atmos sound, and yet weighing as little as 466g. Through the 180-degree rotating camera, users can unleash creative selfies and invigorating photos at previously unachievable angles and unique perspectives. Built-in gesture control also makes capturing the perfect shot easier than ever before. Simply open and close a hand to take a photo. With the highest-capacity battery in its class, these tablets also have a staggering all-day battery life.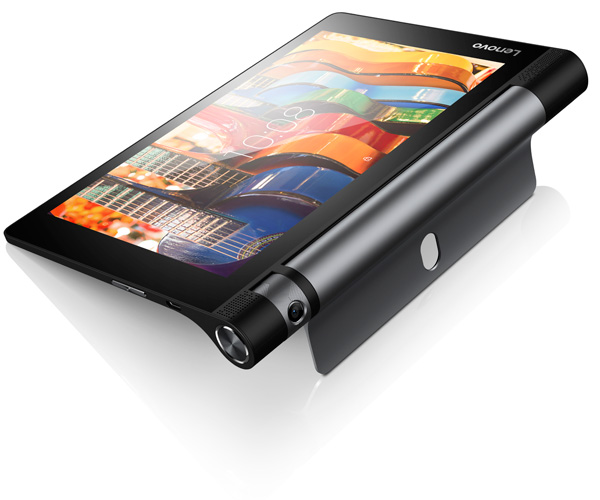 YOGA TAB 3 Pro – The experience of watching Hollywood blockbusters, playing video games and browsing the Web is vastly improved on the YOGA TAB 3 Pro. The tablet flaunts a better optimized projector placement and is now 180-degree rotatable to beam life-sized images onto a wall or ceiling and project significantly brighter and cinematic pictures. At 299 pixels per inch, the onboard 10.1" QHD (2560×1600) screen is considerably sharper, and renders richer colours with its Smart Display technology.
Tablet users can immerse themselves in a cinematic sound without headphones through its powerful inbuilt JBL sound bar and Dolby Atmos technology – an industry first for tablets. To achieve even greater clarity and a louder output, the sound bar is also fitted with 4 front-facing speakers, which are fine-tuned with Wolfson Master Hi-Fi technology.
Sleek and exquisite, the YOGA TAB 3 Pro is carefully assembled with premium materials such as aluminum and a leather-like fabric back, while maintaining its ultra-slim design. Splash proof and perfectly balanced for an uncompromised holding experience, the tablet truly shines in a sea of tablets, given its versatility and long battery life to deliver all the power a user needs for all day use.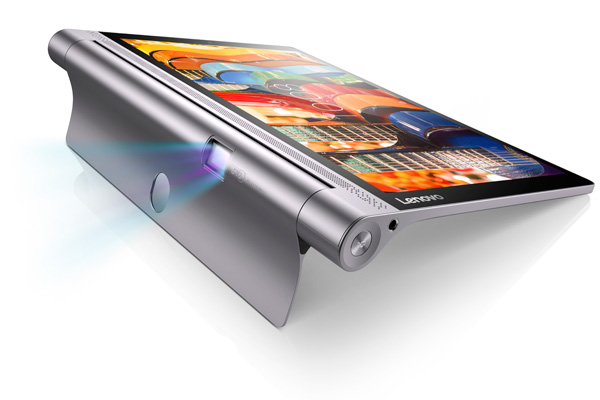 ideapad™ Y700 – Lenovo created the new ideapad™ Y700 for mobile gamers with performance and portability in mind. Built for a solid yet affordable gaming experience, the new ideapad™ Y700 combines the mobility of a laptop with the power of the latest Intel or AMD® processors and discrete graphics to stay immersed in the game. With powerful JBL® speakers and subwoofer and an optional 10-point multitouch display or Intel's RealSense™ Camera (on the 15-inch laptop), the new ideapad™ Y700 is built for total immersive gaming.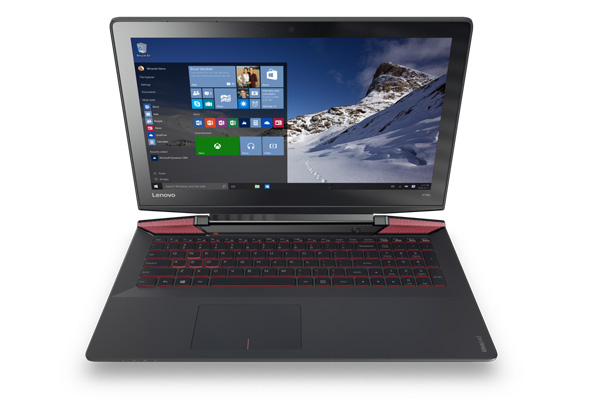 ideacentre™ Y900 – Created for seasoned gamers, the new ideacentre™ Y series is made ready-to-perform, equipped with up to quad-core 6th Gen Intel Core i7 processors and discrete graphics options. The ideacentre™ Y900 makes upgrading easy – ideal for those who value time but like to continually upgrade their machines. The new desktops accommodate future upgrade options, boasting a chassis big enough to fit a full ATX motherboard and support power supplies up to 1000W. The new ideacentre™ Y900 also supports up to two graphics cards, all accessible via an easy access push lever that opens a stylish semi-transparent side panel. An internal cable routing system keeps cables neat on the inside.  Additional space to upgrade a cooling system on top and two dust filters that increase the reliability of the 120mm and 140mm fans ensure the PCs run cool even when gamers push the limit.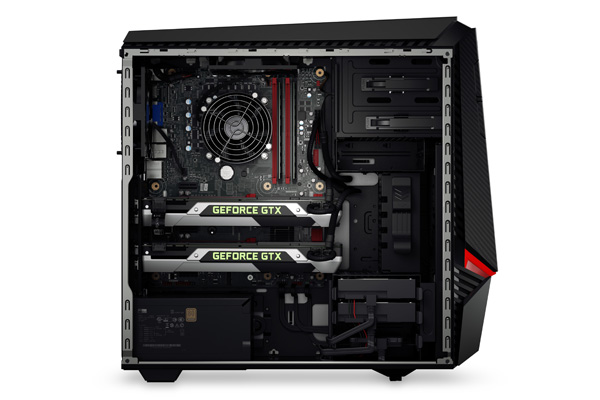 ideapad™ 100S – For those who want to upgrade to an even thinner and lighter laptop, the new ideapad™ 100S is an ideal fit. The ideapad™ 100S 14-inch laptop is not only 35 percent lighter, it is affordable, making it the perfect travel companion for those who value portability. With the quad-core Intel® Atom™ processor, it provides speed for nimble browsing, beautiful images and quick responsiveness to whatever you're working on – or playing. The battery on the 100s is also built to go a long time – a full 8 hours – between charges, so users can do what they need to do without stopping to plug in.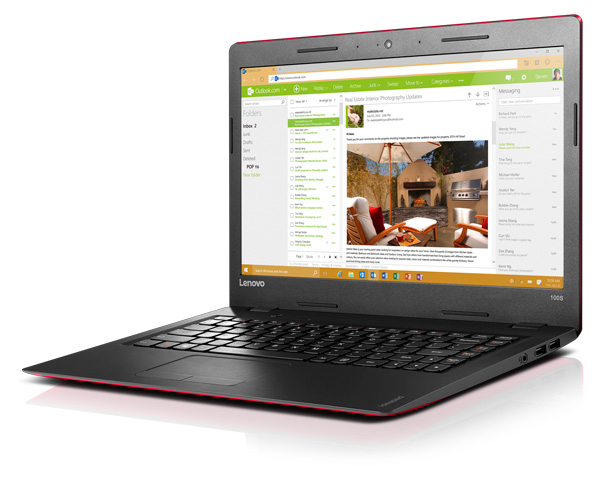 ideacentre™ AIO 700 – The new ideacentre™ AIO 700 powerful desktop boasts the latest 6th Gen Intel® Core™ i7 processor, coupled with up to a stunning 27-inch UHD 10-point multitouch display with JBL® stereo speakers for penetrating sound quality, and discrete graphics for a theatre like entertainment experience. This all-in-one desktop has upgraded to up to twice the CPU performance, screen resolution and memory capacity as its three-year-old previous generation – offering music and movie buffs double the incentive to refresh their hardware this season. A removable slip-off back panel provides the flexibility for tinkerers to quickly get under the hood and upgrade, expand or maintain their ideacentre™ AIO 700. The new desktop is also available with Intel® RealSense™ Camera for users to engage more naturally with their PC and enjoy the next generation of user experiences with gestures through new 3D camera enabled applications.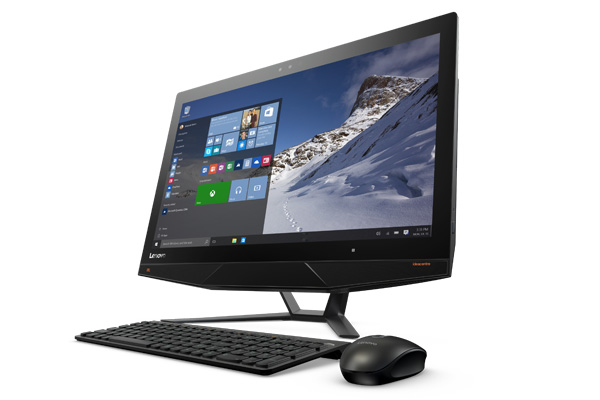 ideacentre™ AIO 300 – Doubling on power and screen resolution and memory capacity, the ideacentre™ AIO 300 is ideal for watching videos and gaming. With up to 6th generation Intel® Core™ i5 processor, this all-in-one equips itself with 10-point multitouch on a frameless LED backlit LCD display and storage space up to 2TB HDD.
ideapad™ 500 (Z51) – The new 15-inch Lenovo Z51 laptops are equal parts home-entertainment center and powerful workstation. Featuring a stunning FHD display, optional AMD discrete graphics and immersive Dolby® DS 1.0 Home Theater® Surround Sound for crisp sound and sharp visuals, it is ideal for streaming videos, downloading music and gaming. The new Lenovo Z51 come with advanced 802.11 a/c Wi-Fi technology for up to three times the Internet speed of regular laptops for faster web surfing, streaming and downloading content. Engineered for productivity, the new laptops are powered by up to the latest Intel® CoreTM i7 processor with up to 1 TB of storage.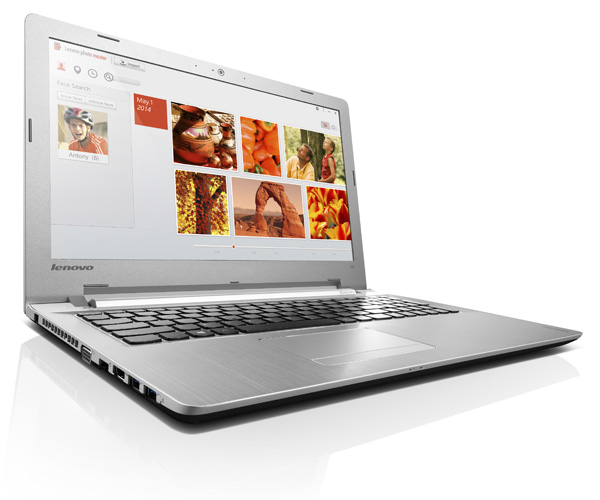 The new Lenovo Z51 also features an optional Intel® RealSenseTM 3D camera that brings the world to life in 3D. Featuring full 1080p colour and a depth sensor, the revolutionary 3D camera allows the new Lenovo Z51 to sense and capture depth like the human eye. Users can 3D scan objects to 3D print, play 3D games or use gestures to control the laptop. Customers can also create a more lifelike video chat experience by changing the background and sharing content.
The Lenovo PHAB is an introductory model to the Lenovo PHAB Plus and offers a bigger HD screen at 6.98 inches. In addition to its unrivalled 4250mAh battery life, the device boasts a 360º Voice feature. Its three-microphone solution and dedicated voice processor ensure clean voice input and flawless on-speaker sound. Adding to its slew of features is 1GB of memory and octa-core Qualcomm processor, ensuring a responsive and smooth-running device. The PHAB is 8.9mm thin, 250g and features a colour protective back which is available in several bright and eye-catching colours.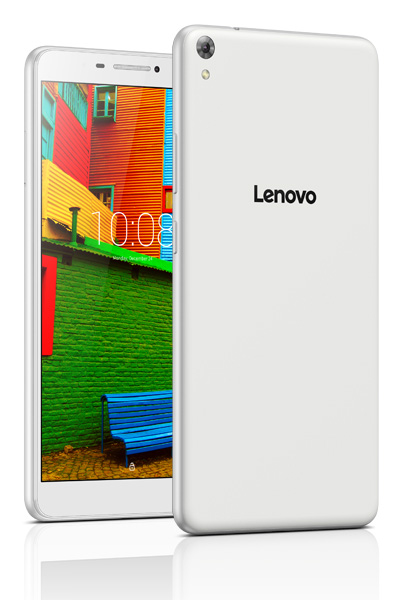 A new addition to the tablet family, the new ideapad™ MIIX 700 12-inch tablet with keyboard folio is designed to stand out from the party crowd.  Recognizably different, the 2-in-1 tablet is powered by up to a new 6th Gen Intel® Core™ m7 processor and features dual watchband hinges, opening the door for new and disruptive ways to work and play with seamless transition between laptop, stand and tablet mode – ideal for those who value stylish and progressive design.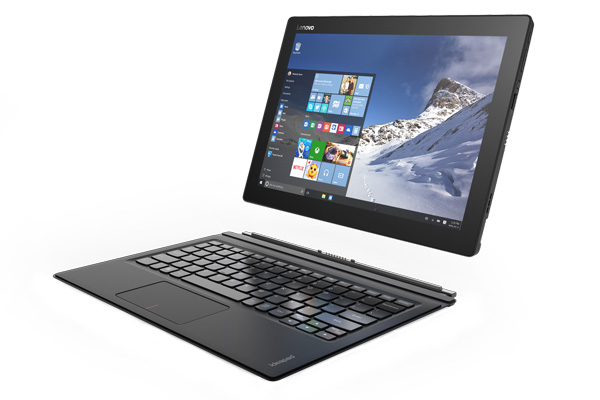 Lenovo Pocket Projector – As Lenovo's first portable standalone projector, the Lenovo Pocket Projector offers multimedia enthusiasts a fresh way to view and stream content for work and play. With a vivid 50-lumen, high-contrast display that can be projected at up to 110 inches, users with compatible Miracast or DLNA-enabled Android, Windows or iOS devices can project a full-length feature film or business presentation on any wall. Or, with its 90° hinge, on any ceiling. With up to 2.5 hours of battery life, the Pocket Projector also features a microSD card with up to 32GB of external storage that can handle a robust multimedia library, all in a pocket-sized form factor.
Lenovo 500 2.0 Bluetooth Speaker – The Lenovo 500 2.0 Bluetooth Speaker features a portable metal design and 270-degree sound projection to deliver an enriched audio experience that's perfect for every occasion from indoors to outdoors. It is built with CSR 4.0 Bluetooth® technology and featuring support for NFC connectivity.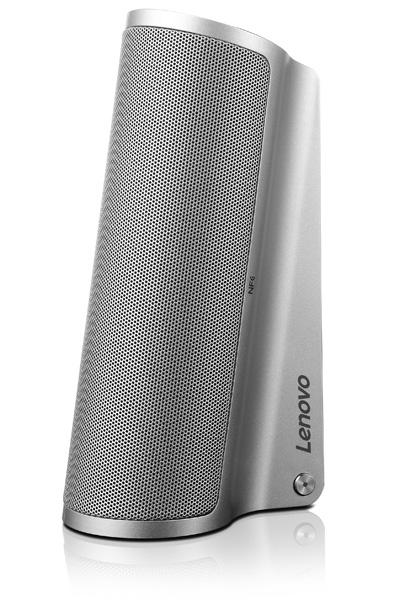 Lenovo Y Series Accessories
Lenovo has also created five custom accessories to boost the gaming experience:
Lenovo Y Gaming Surround Sound Headset: Includes 7.1 virtual surround sound, quick mute and in-line volume adjustment control box and a detachable passive, noise-cancelling microphone. The ergonomic design allows the ear cups to be both foldable and adjustable.
Lenovo Y Gaming Precision Mouse: Features precise, adjustable speeds, eight programmable buttons, four levels of adjustable DPI, five levels of adjustable weight and an ergonomic design made for intense gaming sessions.
Lenovo Y Gaming Mechanical Switch Keyboard: Includes backlight anti-ghosting mechanical switch key matrix, six customizable keys for macro recording, five adjustable levels of brightness and a default key for controlling the Lenovo Y Gaming Surround Sound Headset and a detachable palm rest.
Lenovo Y Gaming Backpack: Fits up to a 17.3-inch laptop, includes padded pockets, a protective hard shell compartment and a chest strap for extra carrying support.
Lenovo Y Gaming Mouse Mat: High reliability and waterproof.
Products will be available in all Lenovo Exclusive Stores and Lenovo Authorized Retailer. For more information, log on to www.lenovo.com.
---