Digi WWWOW Awards 2015 celebrates extraordinary Malaysian netizens
Kuala Lumpur (25 November 2015) — Digi Telecommunications Sdn Bhd (Digi) announced the top eight netizens of Malaysia yesterday, recognising 100% user-generated entries showcasing incredible creativity, ingenuity and entrepreneurialism using the Internet in extraordinary ways to inspire others.
Themed "Taking Ideas Further," the awards saw over 750 entries submitted and featured an interesting new twist – the "elevator pitch" session – where finalists literally went through a one minute elevator ride and were required to pitch their ideas to the panel of judges.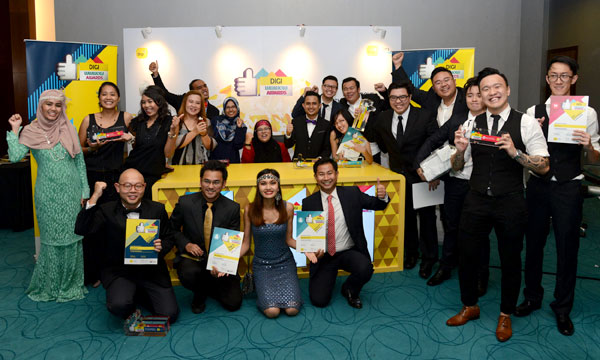 Chan May Ling, Digi's Head of Marketing Services, said that the Digi WWWOW Awards, now in its fifth year, is Malaysia's first and only awards that celebrates the achievements of Malaysians who have used the power of the internet positively to bring their ideas to life. "Through these awards Digi hopes to inspire more Malaysians from all walks of life to tap onto the internet to increase online creativity and entrepreneurism in the country."
"The Digi WWWOW Awards is in line with our 'Internet For All' mission where we imagine putting the power of the Internet in the hands of every Malaysian. The awards seek to inspire Malaysians to ideate, create and turn their ideas into inspiring content," Chan said.
This year, Digi is committed to growing the winning ideas by introducing the WWWOW Hangout, which gives the winners an opportunity to sit in with industry experts to learn from the best.
The Digi WWWOW Awards 2015 saw over 14,204 votes submitted between 1 and 19 November 2015. This year's event was hosted by Jenn Chia and included performances by Back 2 Basics. The awards were supported by Google, Doghouse 73 Pictures, Exponential, KFit, MobMe Asia, Sizmek, The Ming Thing, Uber Malaysia, and Zalora.
For more information on the Digi WWWOW Awards 2015, please visit wwwow.my or look for the #wwwow2015 hashtag.