Subang Jaya (19 October 2015) — The One Academy's School of Interior Design will be launching "The Swiss Touch in Landscape Architecture" exhibition that will be accessible to the public for 5 days (19th Oct – 23rd Oct), in conjunction with 'Creative October', which is the school's annual initiative to promote the field of design and architecture.
This exhibition by the School of Interior Design is held in collaboration with Embassy of Switzerland in Malaysia and initiated by Pro Helvetia, a Swiss art council, to showcase Switzerland's role as one of the leaders in landscape architecture and to highlight to public this crucial form of culture. It is also the college's aim to widen networking relationship with the industry to provide more opportunistic exposure to students.
The exhibition will be officiated by Mr. Rolf Ott, Charges d'Affaires of the Swiss Embassy in Malaysia, Dr. Eric Leong, Head of The One Academy's School of Interior Design, and Mr. Tatsun Hoi, Managing Director and Principal of The One Academy.

The exhibition will feature 36 panels (images and text) and 3 short films that will display Swiss landscape architecture projects that emphasise formal beauty and also ecology at the same time. The audience can expect the richness, diversity and complexity of Swiss architecture that highlights the development of green spaces within the city.
The exhibition's contents are as follows:
Introduction – The panel contains an introductory text on the general content of the exhibition.
Features – The panels provide an insight into the features of the Swiss landscape architecture.
History – Introduction to historical gardens, gardening shows, national exhibitions and Lausanne Jardins, the international festival of urban garden design.
Pioneers – Shows the important role played by the pioneers of Swiss landscape architecture.
The Protagonists – Provides a survey of the most significant Swiss landscape architecture studios.
Nouvelle Vague – Presents the works of a new generation of Swiss landscape architects.
Three short films about the great Swiss architecture will be projected:
Christian Stern, asp, Zurich: Irchelpark
Pascal Amphoux, Contrepoint, Lausanne and Dom Alois, La Valsainte: The Charterhouse of Valsainte, Frigourg
Paolo Burgi, Studio Burgi, Camorino, Ticino: Cardada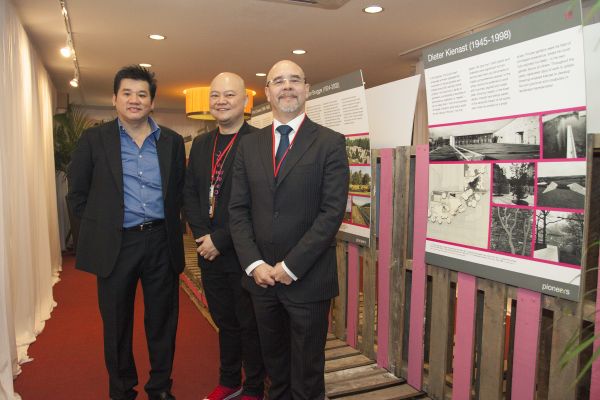 Lecturers and students of Interior Architecture and Design The One Academy tirelessly took part in designing and implementing mock-landscapes of Switzerland in the halls and corridors of the exhibition venue to complement its theme, providing a more realistic experience to the audience.
Armed with the resources and passion to provide a learning platform for architecture and landscape enthusiasts, The One Academy's School of Interior Design is hopeful that this exhibition will inspire the generations to emulate the Swiss' success in architecture design.
For more information about The One Academy, visit www.toa.edu.my or call +603-5637 5510 or e-mail your enquiries to [email protected].