NAZA Premira embraces its sporting spirit with the launch of Aprilia RSV4 RF and Aprilia Tuono V4 1100 Factory motorcycles
Kuala Lumpur (1 August 2015) — NAZA Premira Sdn Bhd, the sole distributor for Aprilia bikes in Malaysia, launched the latest editions of two of its most dynamic racing machines yet – the 2016 Aprilia RSV4 RF Limited Edition and the Aprilia Tuono V4 1100 Factory Edition, in conjunction with the eni FIM Superbike World Championship being held at the Sepang International Circuit for the second time in its history.
Mr. Neri Miclaus, Area Sales Manager of Piaggio Asia Pacific, Mr. David Hector Ratnaike, Senior Vice President, Auto Division, NAZA World Group of Companies, Mr. Chris Lee, Vice President 1, Special Group Function, NAZA World Group of Companies and Mr. Vinesh Nair, General Manager of Aprilia Malaysia, NAZA Premira Sdn Bhd, were joined by Aprilia Racing Team riders, Leon Haslam and Jordi Torres, to launch the two bikes.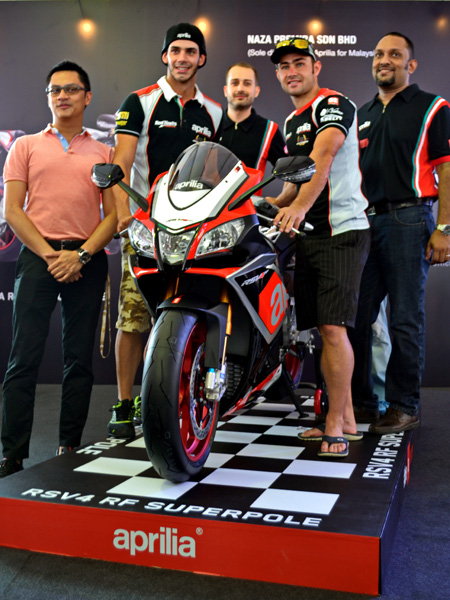 "Aprilia has earned itself a stellar reputation in top-level competition worldwide. With the launch of these two successful models, we are bringing Aprilia's racing DNA, spirit and tenacity to the road. These motorcycles will get adrenaline pumping and undoubtedly satisfy even the purest of thrill seeking superbike enthusiasts," said Datuk Wira Hj. SM Faisal Tan Sri SM Nasimuddin, Group Executive Chairman & Group CEO, NAZA World Group of Companies.
"NAZA will continues to work hand in hand with the Piaggio Group to bring the best of the Aprilia's offerings to our Malaysian customers. As we add to our local product line-up, we also commit to broadening the presence of the brand to provide a reliable network of support to Aprilia owners," added Datuk Wira Hj. SM Faisal.
"Our team is dedicated to making Aprilia ownership a breeze whilst also providing experiences that make ownership no less than an exhilarating and wondrous affair of the avid bikers' heart and soul. After all, an Aprilia is more than just a mere mode of getting from one place to another; it is an experience and a thrill," furthered Datuk Wira Hj. SM Faisal.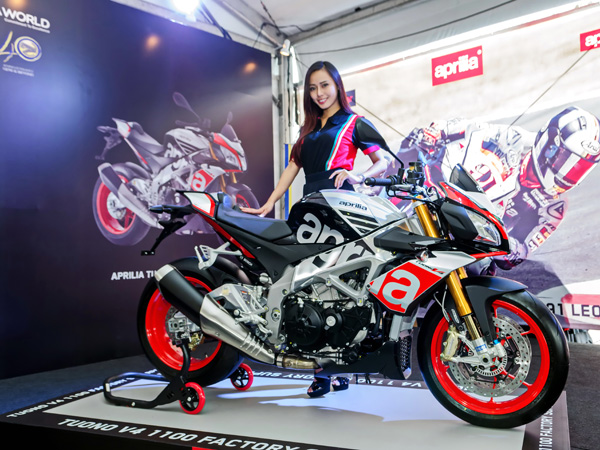 Aprilia RSV4 RF Limited Edition
Aprilia has seen a great deal of top-level competition experience over the years, particularly in the Superbike World Championship where it has had great success recently. Since its release in 2009, the Aprilia RSV4 has netted four manufacturer titles and three championships, making it one of the most coveted rides for top competitors in the globe-trotting series.
Aprilia was born into racing and is the real sporty flagship brand for Piaggio Group. With 294 Grand Prix races won in Road Racing World Championship, Aprilia holds the record for the most wins of any European manufacturer in the history of maximum motorcycle competition.
These are joined by an impressive 54 world titles: 38 in Road Racing World Championship (20 in 125 and 18 in 250), 7 in Superbike (Rider and Manufacturer double win in 2010, 2012 and 2014, manufacturers in 2013) and 9 in Off Road disciplines (7 in Supermoto and 2 in Trial).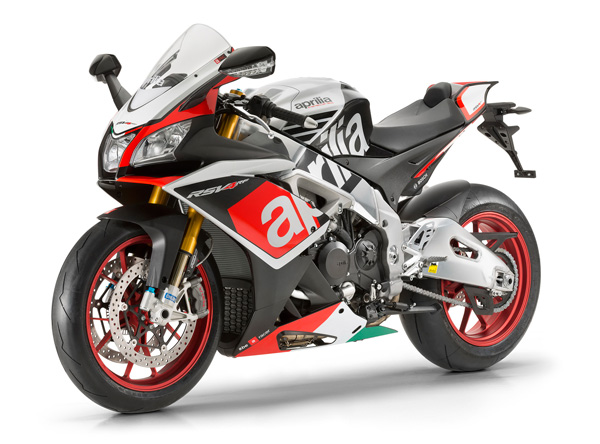 For 2015, Aprilia has fine-tuned its Superbike flagship and upped its game with a lighter motorcycle (2.5kg less than the weight of its predecessor), made more powerful – thanks to a new engine breaking the 200hp mark.
Combined with a revised chassis, better handling and an enhanced electronics package, the RSV4 is primed for victory, being more effective on the track and providing improved riding pleasure for the road. The exclusive numbered RF limited edition, which sees greater sophistication with refined suspension and wheels, is the reference point for sportiness and performance. Skills honed on the track have been transferred to the road-going product to provide everyone with the same excitement that the motorbikes prepared by Aprilia Racing do.
Unmistakeable in its design lucidity and applied technology, the RSV4 is conceived around a 65° V4 engine never before seen on a production sport bike. The Aprilia RSV4 comes already equipped with all the electronic and technical refinements that a rider could want.
To celebrate the arrival of the new king of superbikes, NAZA Premira is offering Malaysians the Aprilia RSV4 RF Limited Edition (only 500 units available worldwide) characterised by a dedicated "Superpole" livery and elements of the Race Pack which includes exclusive aluminium forged rims and professional Öhlins suspension.
The style of the new RSV4 is the result of the perfect combination of form and function. The careful design led to the creation of the most compact full size sport bike on the market, where technical elements such as the impeccable aluminium double rail frame contribute to emphasising its racing vocation. The front end has been completely redesigned: now there is a new, more protective top fairing, created after a careful wind tunnel aerodynamics study, which provides better protection from the wind for riders of any height.
The Aprilia RSV4 is the world's first full scale production motorcycle with a high performance narrow V4 engine, the most revolutionary and powerful engine ever built by Aprilia. It delivers more than 16 additional HP and crosses the 200HP threshold of maximum power output, making it one of the most thrilling sportbikes to ride,
A proven leader in the electronics realm, Aprilia continues to captivate with its APRC (Aprilia Performance Ride Control) software suite, including Aprilia Traction Control (eight-way-adjustable) and Aprilia Wheelie control. It also provides Aprilia Quick Shift and three Aprilia Launch Control settings (for use on track but also approved for street use) and highly advanced Race ABS.
Aprilia Tuono V4 1100 Factory Edition
Aprilia has brought the latest and most spectacular evolution of the sport naked bike dynasty, the Tuono V4 1100 Factory, to the road. A direct descendant of the RSV4, this motorcycle is best described as 'adrenaline in its purest state'. The know-how acquired in years of victorious competition at top levels and the experience of the Tuono history now allow Aprilia to exceed limits which had previously seemed insurmountable.
With a revamped V4 engine (now taking it to 1100 cc and 175hp and maximum torque of 121Nm), and a redefined chassis, the Tuono V4 1100 Factory is a true performer and offers greater agility. The already exceptional APRC Package has been further developed to ensure a more effective ride of greater convenience.
Aprilia also introduces the possibility of connecting your smartphone to the vehicle through the V4-MP platform and two distinctly outfitted versions (Factory and RR) that have the same, strictly Aprilia character in common. This model features the Ohlins suspension, forks and steering damper, which takes the bike's cornering brilliance to another level. Simply put, the Tuono V4 1100 Factory is the ultimate in performance, technology and real-world practicality.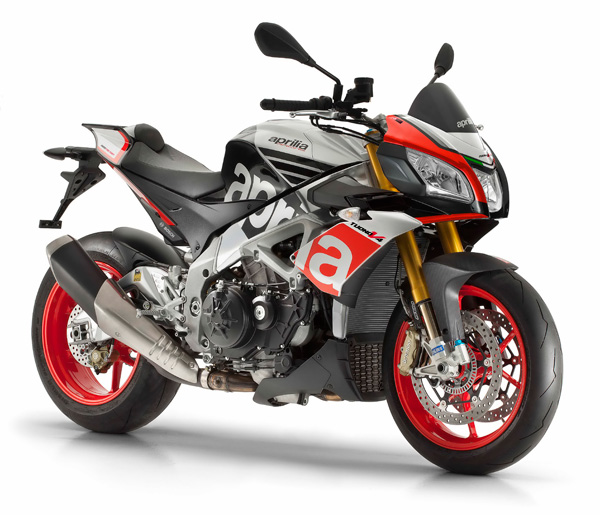 The latest model sports a new look thanks to the more protective top fairing and the better aerodynamic penetration coefficient. The relative headlight unit changes as well, a whole 1.5 kg lighter, fitted with a LED technology position light and a more modern shape which better integrates with the overall design of the bike.
Tuono V4 1100 Factory stands out for its new rail fairing, derived from the RSV4's, a true benchmark in sport motorbike design. The saddle is now more comfortable, even compared to its fairing-clad sister, thanks to the new foam creation procedure. Riders can still naturally ride two-up by mounting the dedicated saddle portion. Thanks to the 15 mm lower seating position and the new style handlebar, the on board ergonomics of both Tuono V4 1100 versions change, becoming more comfortable and increasing the feeling of complete control for the rider.
The third generation of APRC, standard equipment on the new Tuono V4 1100 units, fully integrates with the fine full Ride-by-Wire multimap electronic management of the revamped V4 engine. As always, the Tuono V4 benefits from specifically developed calibration, but it has been evolved even further in order to provide maximum thrills on the road and maximum performance on the track.
The Tuono V4 1100 range is fitted with a highly advanced Race ABS system, developed in collaboration with Bosch to guarantee maximum safety on the road, without sacrificing any performance on the track. The 9MP system, weighing a mere 2 kg, adopts an intervention strategy called RLM (Rear wheel Lift-up Mitigation) that limits rear wheel lift (stoppies) when braking sharply; In addition it can be disengaged and easily adjusted on 3 settings by accessing the instrument cluster control menu.
The Aprilia RSV4 RF Limited Edition is available at the Basic Selling Price of RM138, 800 (inclusive of GST) whilst the Aprilia Tuono V4 1100 Factory is offered at the Basic Selling Price of RM118,800 (inclusive of GST). Both come with 2 years or 20,000km manufacturer's warranty.
More exciting information about Aprilia Malaysia may be obtained at www.aprilia.my and www.facebook.com/apriliaofficialmalaysia.