HyppTV Wins at 2014 TV Connect Industry Awards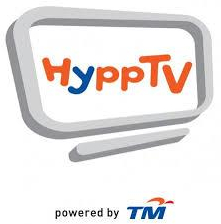 Kuala Lumpur (7 April 2014) – Telekom Malaysia Berhad (TM), through its IPTV service – HyppTV – created history by being the first Malaysian IPTV service to be recognised for two (2) consecutive years at the prestigious TV Connect Industry Award held in Mayfair, London, recently.
HyppTV was awarded the Best Component or Enabler in recognition of the breakthrough hybrid set-top box technology allowing the service to be made available nationwide via TM's Streamyx 4Mbps and 8Mbps packages as well as on multi-screens anytime and anywhere via HyppTV Everywhere. HyppTV Everywhere is the first multi-screen offering by TM where subscribers can enjoy HyppTV content via multiple devices such as smartphones, tablets and PC that provides mobility and creates convenience for its customers to surf world class contents on HyppTV.
Accepting the award on behalf of TM was Jeremy Kung, Executive Vice President, New Media, TM.
Commenting on HyppTV's latest achievement, Jeremy said, "This recognition is truly another momentous occasion for us, making HyppTV the first Malaysian IPTV service to win an award for two years in a row at the prestigious TV Connect Industry Awards. We would like to take this opportunity to thank all our HyppTV subscribers for their continuous support and trust in our service. This accolade is also dedicated to the team for their hard work in making HyppTV growth a journey that we all can be proud of. Receiving this international recognition again this year is another incredible achievement for us, and now with the service being expanded nationwide, this definitely drives us to further intensify our efforts towards providing our customers with the best in service and content offerings."
"This milestone also meet our important objectives which include making the service more widely available to all Malaysians as well as further enhancing the viewing experience with exciting new features such as more applications and WiFi support for the set-top box," he added.
In last year's TV Connect Industry Awards 2013, HyppTV was recognised for Best Online TV Service or Solution.
HyppTV offers its customers a total of 116 channels with 33 channels in High Definition (HD) – consisting of 50 premium channels, 27 free channels including 8 Radio Channels, 16 Video-On-Demand (VOD) genres and 21 interactive channels. HyppTV is powered by TM's high speed broadband service, UniFi and Streamyx which is available to viewers come rain or shine through its residential and business UniFi and Streamyx packages.
For more info on HyppTV, log on to www.tm.com.my/hypptv and visit our Facebook page at www.facebook.com/hyppworld.